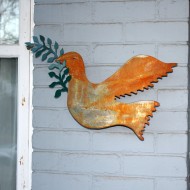 Some of the most meaningful gifts I've received over the years were in response to something I gave to someone else. These weren't always the kind of gifts that were wrapped up in paper and ribbons, although some were. The ones I'm speaking of were gifts that touched my heart and changed my life in some way, and all because I had given a piece of myself to others.
One particular gift came to mind recently. Years ago when I was in my early 30's I became a community outreach worker for an inner city church. The church sat in a neighborhood that had fallen on hard times.The area was mostly African American and Latino. Unemployment was high as was drug and alcohol use, and child abuse or neglect was all too familiar. Along with providing a Mothers' Morning Out program. which gave at-risk women some much needed free time to themselves while we ran a nursery school of sorts, it was my task to visit the elderly in the neighborhood to make sure that they were being taken care of and that their needs were met. I was also trained to offer to pray with them and, more often than not, just be a friendly ear for those who had no one to talk to.
My very first home visit was to a woman named Blanche. That should have been my first clue as Blanche was my mother's name. Blanche lived in a very run down but very well kept little home that she shared with her adult daughter. Her daughter eyed me suspiciously when I knocked on the door, but when I explained that I was from the church down the block and just wanted to visit with Blanche, her eyes softened. She said that her mother would be so pleased to have someone from church to talk to as she could not get out much any more and that she, the daughter, often worked nights and weekends in housekeeping at a local hospital and couldn't take her mother to church. Blanche was 92 years old.
I found her seated in an old tufted armchair. She was the tiniest African American woman I'd ever seen, with snow white hair pulled back in a bun and dressed in a faded but clean cotton house coat. When her daughter explained why I was there, the smile filled her face.
I was so very nervous. I had never done anything like this before despite all of my training. I was suddenly tongue tied. I didn't know what to say to this beautiful lady and didn't want to let her down. I started pulling out brochures about the programs our church was offering and going into my learned speech. But somehow she knew what was going on in my head, and in my heart. She reached over and took my hand in her two small ones and thanked me for coming to visit her. She asked me to tell her about myself, about my children, and the work I was doing in the neighborhood. She then told me all about herself and how grateful she was for her daughter, for taking her in and taking such good care of her. We spoke of her fond memories spending time at church and we prayed together. Before I left, she leaned over and said, "you did very well, dear. You'll do just fine. Just remember to be yourself because that is beautiful enough for anyone."
I cried all the way back to my office. I had gone there to be a comfort to this lady, and she had comforted me. Blanche made me a better person, and all the work I did after that visit came from my authentic self. She passed away peacefully in her sleep a few months later. I was richer for having known her, and the community poorer for having lost her.
Christmas doesn't come in ribbons and paper. It doesn't come in gift cards and parties. It comes wrapped in love and genuine compassion for others, and for every gift of yourself that you give to another, it comes back ten fold. May your gifts be
many and, as the song says, "let your heart be light."
And so it is.