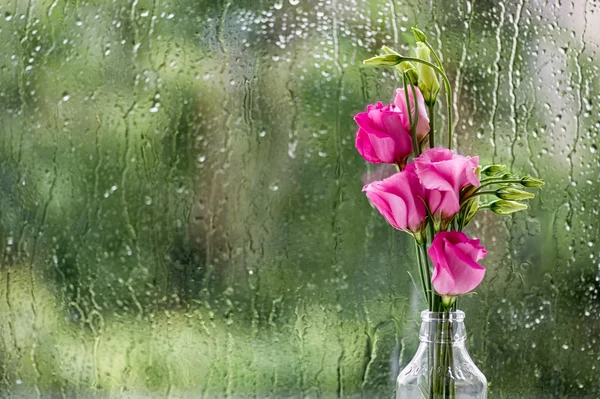 I'm almost as tired of writing about rain as I am having to look at it. Today, however, we are adding a new element ... snow flurries. Yes, you read that right; snow flurries ... in May.
Breaking News: The report of the arrival of Spring in our area is "fake news." Snow showers are predicted to mix in with yet more rain in the early morning hours.
Yesterday I spent some time at my daughter's house. My 10 year old granddaughter is as anxious as Grandma is to start tearing that yard apart and creating our garden. She is even more excited about getting started since she received an Easter Basket filed with gardening hand tools and a brand new pair of gardening gloves! She kept asking me: "Grandma, when can we get started? Is it ever going to stop raining?" I had to tell her that while Grandma may, indeed, be in her wisdom years, it does not extend to weather prediction or any insider information about what Mother Nature is trying to tell us. All I know is that it takes perseverance to be a gardener.
"Perseverance (noun): Steadfastness in doing something despite difficulty or delay in achieving success."
I've head people tell me for many years that I must be crazy to be a gardener. You put your blood, sweat and tears, not to mention your back and knees, into creating this lovely living canvas only to see a wicked storm or frost destroy all of your hard work. What do I tell them? It's not about the finished product; it's about the process. It's about getting your hands in the dirt, pressing your fingers to the ground, and feeling the heartbeat of Mother Earth. It's about watching the birds and insects go about their business, which has a direct affect on our business; namely, the environment. It's about witnessing the miracle of growth from seed to bloom, from seedling to tomato, from sapling to tree. And if something comes along to tear it all up? You just grab a rake and a shovel, clean it up, and start again. Mother Nature does it all the time. Who are we to argue with that kind of success?
I often think about writing the same way that I think about gardening. There, too, I've had people tell me that writing is a useless profession: "You'll never make any money at it; only a handful ever make it to the Best Seller List." Absolutely. So why do it? For the gift of the process: for the joy of playing with words, of stringing them together to create a thought on paper, for the power of knowing that someone, somewhere, will read your words and be changed by them even if no one else ever does. I would go so far as to say that it takes even more perseverance to be a writer than to be a gardener because you often don't see the fruits of your labor before your eyes. Instead, you feel it in your heart.
The latest forecast has sunshine and 60 degrees returning mid-week into the weekend, just in time for Mother's Day. Hey, Mother Nature is no fool. She knows what she's doing. She's giving us a much needed lesson in faith ... with a little perseverance thrown in!
And so it is.