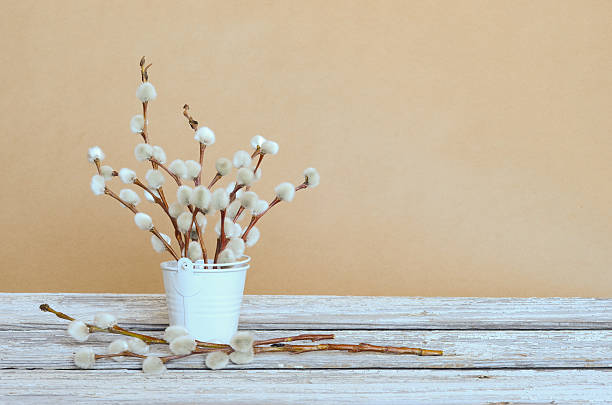 Thankfully, the big storm that was predicted to dump 16 inches of snow with 60 mph wind gusts was nowhere near as bad as expected, although thousands to the east of us got the brunt of it and lost power for almost 24 hours. Still, we did get about 6 inches of snow, and the wind has been relentless for days and days. After enjoying spring-like weather for a few days right before the storm hit, it was such a letdown to go back to cold, grey, and windy. Welcome March.
When we get this close to spring, but it still feels like winter will never end, I do what I can to make it feel like spring inside until the outside catches up. I keep some artificial flowers and plants to pull out every year at this time to give my home, and my spirits, a lift. My favorites are the pussy willows. When I first moved to upstate New York and was living along the river, the pussy willows were always the first sure sign of spring. They grew wild along the river bank and I was able to cut a bunch to bring inside and keep in water. Now that I am farther away, I keep a bunch of artificial ones to bring the hope of spring back inside. They never fail to cheer me up.
In addition to the pussy willows, I also try to create the sounds and smells of spring. I always have some essential oils or wax melts that spread fresh, floral scents like lilac, lavender and roses. Then I put on a DVD that shows a scene of springtime in the woods, complete with babbling brook and birdsong. Finally, I pull out my old collection of decorative flags (I used to hang them outside when I had a garden but now I use them like a hanging quilt) and find the one for spring. By hanging it right inside the front door, it's the first thing I see when I come in from the cold, and the last thing I see when I have to go out into it.
By the time I have finished planting my "inside spring," my spirits are lifted and I can endure what lies ahead until the real spring arrives. Over the years I have discovered that if we can create the atmosphere for what we want to manifest in our immediate surroundings, we can also create the feelings associated with that wish. It may not be the real thing, but it is close enough to make a big difference in our attitudes and in our inner gardens.
So if the first day of spring seems like it's way too far away on the calendar, try creating your own version of spring starting today. Every day can feel like spring - if you can imagine it, you can do it!
And so it is.